The Waterways Project of Ten Penny Players, Inc.
In 1967, Ten Penny Players was incorporated as a 501c3 not for profit organization. Barbara Fisher and the late Barbrah Messing established a children's theater in Manhattan's Chelsea community. Initial grants from the New York State Council on the Arts, IBM, the William C. Whitney Fund and Rockefeller Brothers Fund allowed them to produce shows for inner city children. One empty aluminum can was admission to "Noisy City Sam" an original antipollution play by Fisher, presented to more than 4,000 children in Clinton Playground.
After the birth of her son, Athelantis (Thomas) Perry, in 1969, Barbara Fisher wrote Care Without Care (Avon, 1972), detailing her experiences trying to gain medical intervention. Ten Penny Players' mission moved in a new direction; and Messing and Fisher organized a conference, "The Hurt Child and the Arts," held at Fordham University.
In 1975, Barbara, who holds a degree in Fine Arts from Hunter College, was given a letter press by Verna Gillis of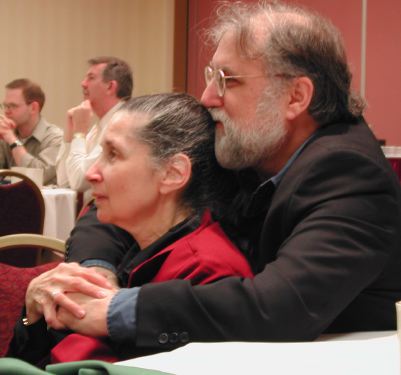 Soundscape. The press allowed Ten Penny Players to begin publishing illustrated children's books and poetry. In 1976 Ten Penny exhibited its publications at the New York Book Fair under a tent in Bryant Park. From 1978-87 Barbara Fisher served as fiscal director for the annual fair. There she met Richard Spiegel, who was the book fair's small press poetry coordinator. Together they formed the Waterways Project of Ten Penny Players in 1979.

On July 4, 1979, at the old undeveloped South Street Seaport museum, in the park in front of Bowne and Co., Barbara Fisher and Richard Spiegel assembled poets (who did a marathon reading from Walt Whitman) and New York State poetry presses (who exhibited and sold their work). The presses included: Abraham Marinoff Books, American Book Review, A Shout in the Street, BardPress, Contact II, Cross-Cultural Communications, Full Track Press, Glassworks, Home Planet News, Ithaca House, New Scribes, NYS Small Press Association, Nok Publishers, Poetry in Public Places, Red Dust, Shamal Books, Strawberry Press, Sunbury Press, Swamp Press, SZ/Press, The Smith, 13th Moon, and Tiresias Press

The first few years of The Waterways Project was documented in the publication, "More Than A Gathering Of Dreamers: A Guide to Organizing & Exhibiting at Book Fairs" edited by Ed Hogan for CCLM in 1980. The project grew from a desire to present the artistry of the word to New York residents in their own communities. Presenting bookfairs at piers, parks, and the waterways reflected our concern for the aesthetics and ecology of New York rivers and lakes. The South Street Seaport Museum, the National Maritime Historical Society, the New York Harbor Festival and the Department of Ports and Terminals made sites available to us without charge in 1979 for intergenerational poetry performance and exhibits. Venues included: Pier 13 in Staten Island on July 21st; Pier 84 at West 44th Street in Manhattan on July 28; Nott Avenue and 44th Drive in Queens on August 12; the North River Bulkhead in Greenwich Village (West Street and Bank Street) on August 19th; the Fulton Ferry Landing Brooklyn on August 25th and 26th; and on the Rondout Creek Riverbank in Kingston on September 8th and 9th.

Each event was documented with a poetry publication containing one poem from each reader. This publication became the basis for Waterways: Poetry in the Mainstream, a poetry magazine, published 11 times a year without advertisements or prose. Sample copies of the magazine along with the list of themes are posted at http://www.tenpennyplayers.org/mags.html .

Subways Slams was a citywide poetry program held in 1981 at the subway station under the New York Public Library at 42nd Street and Fifth Avenue. Waterways has consistently conducted programs for adults and children at the branches of the New York Public Library. Beginning in 1981 and lasting until 1995, Richard Spiegel conducted a year round weekly poetry workshop for adults at the Jefferson Market Library. Barbara Fisher's children's poetry workshop (1981-1984) at the same Greenwich Village library led to the student chapbook series, In Search of a Song,

The Streams anthologies, began in 1987, has contributed to the resurgence of interest in poetry among New York City high school students. Waterways has published more than 5,000 students, and over 400 teachers, administrators, and artists have participated in gathering material for Streams. Since 1989 the anthologies have been selected by the young adult librians for The New York Public Library's Books for the Teen Age.

In 1989, needing a larger space, The Waterways Project moved into its permanent home on Staten Island at 393 Saint Pauls Avenue in the Stapleton community. A house built in 1903, is home for a flock of cockatiels, cats, turtles and a dog as well as in house Xerographic and letterpress printing operations, the on-line computers, administrative space, POTS video conferencing facilities, and archival storage of publications.

From 1990-2000 Waterways presented Bibliomania, a program open to all public, private and parochial schools in Staten Island. First presented at the St. George Branch of the New York Public Library, the audience outgrew the space and the program was moved to the Richmondtown Branch. From 1991- 2000 videotapes of Bibliomania programs were shown on Staten Island Cable Television.

From 1990-2003 Ten Penny Players coordinated a Learn and Serve America project involving students at alternative, adult and continuing education schools and programs who participated in service learning activities and reflected upon them. Every May at the Prospect Park Picnic House more than 200 high school students participated in the annual Reflection and Response celebration of students who performed service learning activities. Poetry readings and performances by New York City high school students celebrated their service to the community in nursing homes, hospitals, day care centers and schools. These students reflected on their service learning activities through the arts. Waterways published the student reflections as site-based anthologies which teachers used to motivate further reflection.

In 1994, The Waterways Project began Volumes and Volumes of Poetry. This program was recognized by Professor David A. Bickimer, of Pace University, as a promising arts in education project and received the Pace University Promise of Learning Award. More than one thousand separate student chapbooks of poetry have been published in this series to date.


Ten Penny Players Home page went up on the web in 1998. An interactive writing program, Streams On Line (SOL), was developed by Ten Penny Players with support from the Center for Arts Education. The program was available through the Internet as an online writing workshop, beginning in the autumn of 2002, when it hosted 500 participants.


An archive of Ten Penny Players' publications is available without charge at Scribd.com. As of April 2014 it has been viewed 467,886 times.


Poets and artists who have worked with Waterways include Albert Huffstickler, Joy Hewitt Mann, Dennis Nurkse, Hal Sirowitz, Liza Jessie Peterson, Louis Reyes Rivera, Ellen Aug Lytle, Magdalena Gomez, Donald Lev, Enid Dame, Fielding Dawson, Frank Stearns, Molly Barker, Tom Mitchelson, Ronald G. King, Ofelia Rodriguez Goldstein, Janet Griffith, and Odimumba Kwamdela.

The program has received funding support from the National Endowment for the Arts, New York State Council on the Arts, Empire State Partnership Project, Center for Arts Education, NYC Department of Cultural Affairs, NYS Department of Recreation, J M Kaplan Fund, New York Foundation for the Arts, Learn & Serve America, The New York Times Company Foundation, The Amsterdam News Educational Fund and others. Awards include the Mayors Special Arts Award for Literature, the Pace Promise of Learning Award, and the Association of Teaching Artists' Teaching Artist Distinguished Service to The Arts In Education Field Award in 2003.

The Waterways Project promotes populist poetry by reaching out to disenfranchised populations, encouraging a participatory literary democracy, building a prosocial sense of community among forgotten members of society (the recent immigrant, the impoverished, the homeless, the institutionalized, and the incarcerated), and providing a link between writings of the common person and the literary tradition. Waterways believes in the literary standard as expressed by Emily Dickinson: "If I read a book and it makes my whole body so cold no fire can ever warm me, I know that is poetry. If I feel physically as if the top of my head were taken off, I know that is poetry. These are the only ways I know it. Is there any other way?"

(photo of Barbara Fisher & Richard Spiegel by Diane Gallo)